"Prometheus unbound"
An evening about artificial art and theatre.
Prometheus gave humans fire, technology, civilization and art. On this basis we think about art in the digital age: what ist human, what artificial art? Can artificial intelligence be creative? And what happens, when machine learning and ai-created sound, pictures and texts meet 'real' actors?
Premiere on 14.12.2019 at Landestheater Linz.
—————————————
"Fragments | a digital Freischütz"
Der Freischütz (The marksman) is a German Romantic opera by Carl Maria von Weber (libretto Friedrich Kind), which premiered in 1821 and is often seen as the German national opera.
Max, the assistant forester, has to prove himself with a masterly shot to gain the hand of Agathe, the head-forester's daughter and so to become his successor. Doubting his skills as a marksman, Max accepts the help of Kaspar, who sold his soul to the devil, to cast seven magic bullets: six of them hit anything the shooter wants, the last one will be directed by the devil…
The virtual realities of CyberRäuber let the visitor find their own perspective on the opera and closely encounter Max, Kaspar, Ännchen and Agathe. The four distinct episodes show fragments of a classical masterpiece, following no linearity or chronology, inviting to explore, to stroll, observe and even influence the experience.
Fragments | a digital Freischütz is a co-production with Badisches Staatstheater Karlsruhe and Landestheater Linz, funded by Kulturstiftung des Bundes (German federal cultural foundation).
Link to Badischen Staatstheater
Premiere: 26. April 2019
————————-
"Verirrten sich im Wald…", Deutsches Theater Berlin
Article about our work in exberliner:
————————-
VR-work "Der Zukunft" 
Presentation of our short piece "Der Zukunft" for Staatstheater Karlsruhe's 300iest birthday. Contemplating theatre's space, place, people and art…
————————-
"Die deutsche Bühne" about CyberRäuber
Extensive article about our work in Germany's oldest theatre magazine "Die Deutsche Bühne" under the very nice title "Digitale Erzähler" (digital storytellers).
————————-
Talk about VR theatre and showing of "Memories of Borderline" at Raumwelten 2018-congress
————————-
Meet Juliet, Meet Romeo at Kunstfest Weimar
A VR-Theatreinstallation based on Shakespeare's Romeo and Juliet
Premiere: August 24th, 2018 in Weimar
direction: Branko Janack
concept, development: CyberRäuber (Marcel Karnapke, Björn Lengers)
Music: Max Nübling
Visual Consulting: Cleo Niemeyer
With Bastian Heidenreich, Julius Kuhn, Lutz Salzmann, Isabel Tetzner und Dascha Trautwein
Link zum Kunstfest Weimar
nachtkritik.de über "Meet Juliet, Meet Romeo "Digitale Ästhetiken und virtuelle Erzählstrategien und das Theater und sein Publikum: So nah wie hier kommen sie sich noch selten."
————————-
Der goldne Topf
In autumn 2018 we'll premiere "Der Goldne Topf", a romantic novella from E.T.A. Hoffmann at Theater Baden-Baden. Together with director Nicola May and her ensemble we will create a hybrid theatre and VR-experience, with traditional costumes and stagesettings, mulitmedia-projections, live VR on stage and multiple interactive VR-experiences on the new Oculus Go VR-glasses.
————————-
Social Virtuality
Together with Badisches Staatstheater Karlsruhe and Landestheater Linz (Austria) we embark on a three-part journey into the possibilities of VR on stage and stages in VR. The motto: social virtuality. Partially financed by the German Federal Government and with Ars Electronica Center, Linz and Zentrum für Kunst und Medien, Karlsruhe as additional partners.
Link zum Badischen Staatstheater
————————-
Verirrten sich im Wald… – CyberRäuber at Deutsches Theater Berlin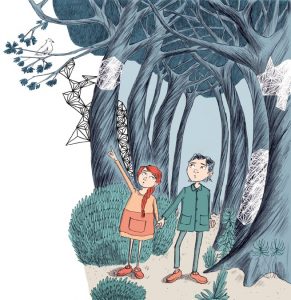 Together with director Robert Lehniger we'll work on "Verirrten sich im Wald…", a reflection on Brothers' Grimm Hansel and Gretel on stage and with VR/AR/XR. Premiere on March 30th, 2019 at Junges DT, the youth theatre of renowned Deutsches Theater in Berlin.
————————-
Short intro to "CyberTheater" in Dresden
Short intro into our work on May, 5th 2018 at Creative Forum of 10. Sächsische Theatertreffen in Dresden. Two talks and our basic setup for "CyberTheater" (cyber.vtheater.net) Link Sächsisches Theatertreffen
————————-
"Die Biene im Kopf" at Theater an der Parkaue, Berlin
On April, 26th 2018 we celebrate the premiere of "Die Biene im Kopf", a play for children by Roland Schimmelpfennig, director Martin Grünheit. VR and AR-elements help our magnificent actors Jess Gadani, Tim Riedel and Andrej von Sallwitz to conquer the real stage that doesn't have a classic front or rear, but only a "within": a digital total theatre! Link with further info
————————-
Article in Metro UK
Article in Metro UK, the United Kingdoms newspaper with the highest daily circulation: "It's clear the stage is the perfect place to test out such epochdefining tech. After all, theatre has always been the medium of play."
————————-
Education
We'll be holding two seminars about Theatre and VR, at HAWK – Hochschule für angewandte Wissenschaft und Kunst, Hildesheim, and Hochschule für Musik und Theater in Leipzig.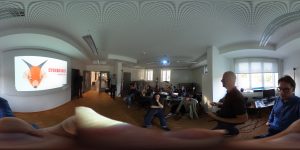 ————————-
'Biene im Kopf', Theater an der Parkaue
Our first work in Berlin: together with director Martin Grünheit we will work on "Die Biene im Kopf" (The bee in the head) for Theater an der Parkaue. The play premieres on April, 26th.
————————-
Memories of Borderline bei Ars Electronica Festival 2017
We showed 'Memories of Borderline' not only in the usual VR version, but as well in an interactive movie version (in 8k resolution and 3D) in their sensational Deep Space 8K theater. An inspiring festival and a very good experience for us. Thank you!
————————-
Memories of Borderline at Ars Electronica Festival 2017
We are proud to be part of Ars Electronica Festival 2017. We'll show 'Memories of Borderline' at Deep Space 8K, and the new VRLab.
————————-
German Press: Sueddeutsche Zeitung
Als eine digitale Anstalt betrachtet – Philip Bovermann
————————-
Der Geisterseher
Thank you Mannheim, thank you Weimar, thank you Berlin! More than 500 visitors saw our VR-theatre production "Der Geisterseher" after the play from Friedrich Schiller.
————————-
Interferenzen
For 'Digital Playground Festival' in Bern, Switzerland, we had five days to prototype a new, immersive theatre piece. 'Interferenzen' is a about technological isolation, contact and the comfort in community. The guiding idea: how can we use VR not as a stage, but as one part of the play, making the basically one-person focus of VR into an interesting feature for a larger audience. Or short: to not only put theatre into VR, but to take VR into theatre, put it on stage.
————————-
Laserscan2VR…
Working on optimizing our pipeline to transfer 3d-pointclouds from laserscanning to realtime-VR. Take a virtual stroll through a pointcloud, Schumannstrasse in Berlin-Mitte:
————————-
Onwards…
First glimpse at VR models for Theatre Dortmunds award-winning "Borderline Prozession". In May 2017 in Berlin:
————————-
Theatertreffen!
Schauspiel Dortmund's 'Die Borderline Prozession' is one of 'the 10 'most remarkable theatre productions' of this season and will travel to the Theatertreffen in our hometown Berlin this May. A well earned award, congratulations! It is somehow fitting that our Borderline VR experience will be ready at the same time…
————————-
Premiere 'Faust to go' 
Premiere of 'Faust to go' from Robert Lehniger is on January 21st in Düsseldorf. Break a leg!
————————-
Stagesets for virtual eternity
Milimetre-scale digitization and reconstruction of complete stagesets with laserscanning and photogrammetry
Today, most stage designers already use 3d models to plan their stages, mostly to plot construction drawings. Few use Virtual Reality to 'walk' through their creations before they are even build.
To digitize existing stages for digital reproduction, you need to scan them, for example with a laserscanning device. The laser is able to survey sub-millimetre differences from 10 m distance, taking in details up to 200 m away. The survey data is subsequently turned into pointclouds, which are enhanced with photos to add surface and textures.
We used this method for our ongoing project for Schauspielhaus Dortmund's "Die Borderline Prozession". One compelling aspect of this wonderful play is the vast stageset. It is a static construction at the "Megastore", containing 14 partial stages, outside spaces and a roof garden. The real minivan in front of a little shop is merely a prop…
This immense data set creates lots of artistical and technical opportunities: you can explore the stage in VR long after its deconstruction, you can isolate single elements, change, rescale or delete them, or add new ones, telling new stories in old or re-cycled stages.
We ourselves are fasciniated by all the options and opportunities the combination of laserscanning and virtual reality promise. Like Schauspiel Dortmund says: "We're in the middle of an explosion…!"
————————–
Using virtual cameras
Directors turn cameramen, their gaze replacing technology
We record actors holographically. Meaning: we scan their bodies surface geometrically, just with 3d scanning, only this time while they're moving. Once recorded, we are able to use them like any other 3d model, watching them from all sides, manipulating them, etc. It is now possible, to really record a performance and to replay it in 2d or 3d.
You can choose the position, the cameras perspective in real time, change the viewing angle, rescale objects and actors, design camera flights, drive through bodies, try crazy stuff…
We use a system that enables the director to become the camera and do everything on her own, no coding required.
Working with this, the enthusiasm of participating artists and the curiosity of our visitors have produced a lot of new ideas and approaches. The technology is developing fast, we are looking forward to the new.
————————–
And the award goes to…
Marcel recieved the 3D Guild Award of the International 3D Summit in Liege, Belgium, in the category 3D VR Animated for his project 'Pitoti Prometheus' in December.
————————–
Work in progress (current status: December 2016)
'Die Borderline Prozession': VR-Installation for Schauspiel Dortmund (director: Kay Voges), May 2017
'Der Geisterseher', coproduction with Schillertage, Mannheim, and Kunstfest Weimar. June and August 2017
'N.N.' (director: Daniel Brunet), in co-operation with English Theatre Berlin.
Abschlussbild Dreharbeiten 'Die Borderline Prozession' im Schauspiel Dortmund, November 2016 – Spherical Image – RICOH THETA